2016 HOUSA @ Lake Eden
June 23 – 27, Black Mountain, NC
TICKETS ON SALE WEDNESDAY FEBRUARY 17TH 2016
Featured Guests include: David Kuckhermann, Kabecao Rodrigues, and Nadishana! ….others to be announced soon!
HangOut, USA, (HOUSA) is a Gathering that celebrates the Handpan community. This year we welcome 200 people from around the world for a long weekend of music making, workshops, discussion, community and concerts.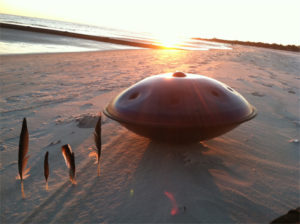 HangOut, USA is an opportunity for players, builders, and enthusiasts to deepen their knowledge and experience of this instrument and its global family. We gather to share our stories, talent, experience and most of all, our love for this beautiful and inspiring art form.
Over the years, the organizers of HOUSA have been deeply impressed and moved by the various ways this instrument has transformed all our lives. We actively hold space for the many "paths of the pan". So whatever your interest is, be it casual, professional, spiritual, educational, or anything else, there are ways for you to participate.
One of the reasons we host a larger gathering, is to welcome those who are new to the art form to have a way to discover, firsthand, the magic of these Sound Sculptures with the people who adore them. H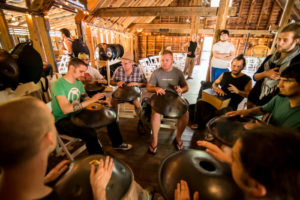 andpans from makers in the US and overseas, as well as some of the finest musicians, and builders in the genre will represent at HOUSA. It is truly an ear opening experience to hear the broad range and unique sounds that are possible from each of the makers and musicians.
We have found that an immersive environment like Hangout (UK or USA) is one of the best ways to explore the breadth and depth of this emerging culture. The transformational power of the Handpan, continues to motivate us to do what it takes to gather with these mysterious instruments and the people who make, play and enjoy them. We are grateful to have the opportunity to grow with each person in this diverse common unity, These instruments have changed our lives and, as organizers of HOUSA, we are committed to provide that opportunity for others.
Rusty James, MamaMojo and Peter Levitov
….a little history:
Handpangea was the first Han
dpan gathering in the US and was sponsored by Rusty James and Todd Garlow. For 3 years 50-70 friends gathered at Laughing Waters Retreat Center in Gerton, NC. After the 3rd gathering, it became clear that the Handpan community had a need for a gathering with a larger capacity, as well as the smaller gatherings like Handpangea.
Imani White came to the first gathering and over the years of coming to Handpangea, she became dubbed as MamaMojo, by Jim Dusin of Pantheon Steel.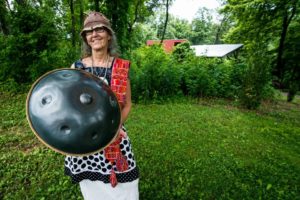 Once the idea for a larger gathering was hatched, imani stepped up, bringing her skills and leadership to help co-produce what we now call HangOut, USA. She returned to North Carolina, after 20 years, in October 2013 to be fully present with the possibilities in the Asheville Handpan Community.
After attending the 2nd Handpangea, Peter Levitov was inspired to quit his job and move to Asheville, NC (actually into Rusty's shed) to dedicate himself as a full time street performer in Asheville's thriving busking community.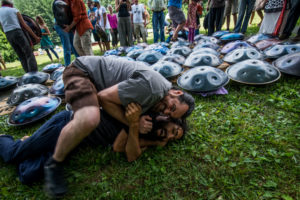 The collective energy that naturally develops, when living in the same town, working and playing together often, and being friends, provides Rusty, Peter and imani with the experience to support and co-produce HOUSA 2016 and build Handpan Community, as a way of life. In our community, sometimes that means wrestling and laughing a lot!
Go Pan City!
….a little more history:

During HangOut(UK) 2013, we had some interesting and exciting discussions with Rusty James and Imani White about a possible handpan event across the pond in the good ole USA.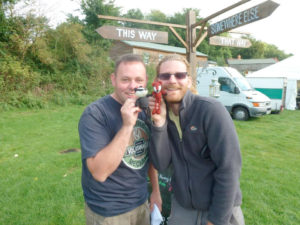 Those discussions have continued long after HangOut finished and we're very pleased to announce an association between HangOut UK and what will be the first HangOut USA in 2014.
As most of you will know HangOut was started here in the UK by us (Kelly Hutchinson and Rob Watkins) a little over 8 years ago now and the event has gained worldwide support, with visitors coming from literally all over the world.
The name HangOut was an obvious play on words in the early days but in literal terms it means just that, to HangOut with your friends. This was why we decided to capture that name and use it for the UK based handpan event.
With the ever growing community of Handpan owners/players out there it made perfect sense to expand the HangOut community and join up with our American friends and gift them the name HangOut USA and create an association with HangOut UK.
Please join us in supporting them and welcoming this event to the annual handpan gathering calendar.
Rob and Kelly