2015 HOUSA @ Camp Hope
July 16 -20, Canton, NC
Registration begins 2/14/15! 
HangOut, USA, (HOUSA) is a Handpan Gathering that welcomes as many as 200 people to come together for a long weekend of music making community, WErkshops, discussions, and concerts. all things related to the Handpan and Singing Steel happ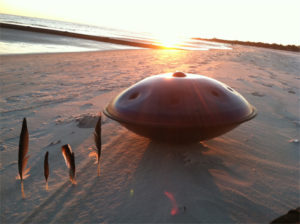 en at HangOut, USA. Musicians and makers from around the WErld come here to share time, technique, talent and trade stories. The first gathering of this kind, is HangOut, UK, and we are happy that the guys that got these gatherings started (Rob and Kelly) will be joining us. By hosting a larger gathering we wish to welcome new people to the instrument. Those who have yet to meet the Handpan or those who have had an opportunity to play one and want to be a part of the community and beauty that these instruments inspire.
There are many unique things about HangOut, USA that when you register you gain access to. WErkshops in the Morning. Meet and Greets, PANel Discussions and Tone Field Jam Sessions in the Afternoon. Concerts in the Evening WITH amazing food, in between! Those are the things we can openly talk about.
There is a bit of mystery about this instrument family, and if you want to have an opportunity to meet and play with not only some of finest musicians in this genre, but also the makers, register now. We have coupled that with World Percussionist David Kuckherrman and River Guerguerian!
….a little history:
During HangOut(UK) last year we had some interesting and exciting discussions with Rusty James and Imani White about a possible handpan event across the pond in the good ole USA.
Those discussions have continued long after HangOut finished and we're very pleased to announce an association between HangOut UK and what will be the first HangOut USA next year.
As most of you will know HangOut was started here in the UK by Kelly Hutchinson and Rob Watkins a little over 7 years ago now and the event has gained worldwide support, with visitors coming from literally all over the world.
The name HangOut was an obvious play on words in the early days but in literal terms it means just that, to HangOut with your friends. This was why we decided to capture that name and use it for the UK based handpan event.
With the ever growing community of Handpan owners/players out there it made perfect sense to expand the HangOut community and join up with our American friends and gift them the name HangOut USA and create an association with HangOut UK.
Please join us in supporting them and welcoming this event to the annual handpan gathering calendar.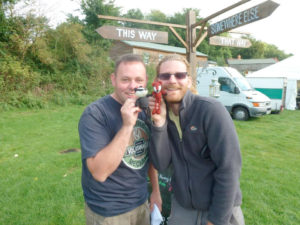 And if you're going to HangOut, USA, we'll see you guys there coz we've been invited as honourable guests…and tourists.
I wonder if we'll get to cut a ribbon!
We're coming to America people!!!
Kelly & Rob